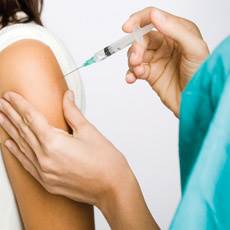 Last year's severe flu season 
affected move-ins and income
 at senior living communities across the country. As the industry prepares for another flu season, the Centers for Disease Control and Prevention's Advisory Committee on Immunization Practices has issued its 
influenza vaccination guidelines
 for 2018-2019.
The CDC continues to recommend that everyone 6 months old and older receive an annual flu shot with any licensed, age-appropriate flu vaccine. The good news is, several types of vaccines will be available this year, and the agency does not prefer one vaccine over another.
Among the groups of people for which vaccination is especially important, according to the CDC, are people with chronic conditions such as asthma and diabetes, residents of senior living communities and nursing homes, and those who care for them. The agency recommends that people get vaccinated by the end of October to ensure that the vaccine takes effect as early in the season as possible.
Read the CDC's previously published "Interim Guidance for Influenza Outbreak Management in Long-Term Care Facilities" here.
Source: McKnight's Senior Living: https://www.mcknightsseniorliving.com/cdc-issues-flu-vaccination-guidelines-for-2018-2019/article/790965/
By: Lois A. Bowers